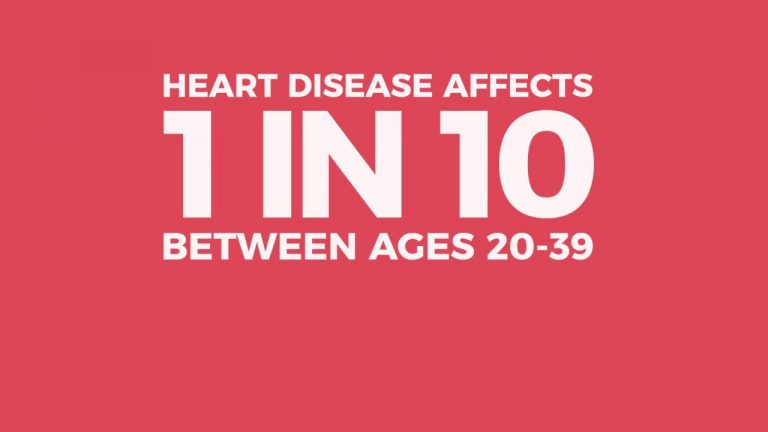 What Heart Health Means in your 20s and 30s
Stress does not age discriminate, and neither do heart attacks. Unless they have a specific reason to do so, most individuals in their 20s and 30s may not feel the need to be concerned about heart health. Unfortunately, however, rates of heart disease are increasing for people in this age range. The American Heart Association "observed a significant increase in patients [who experienced heart attacks]… who were <55 years of age from 1995 to 2014." In order to achieve holistic bodily health, individuals — even younger adults — must be vigilant about monitoring and bettering their heart health.

"Acute myocardial infarctions," or heart attacks, have increased among those in their 20s and 30s, especially among women. To borrow some wisdom from an older generation, "an ounce of prevention is worth a pound of cure," and this is certainly applicable to heart health.
Although many of us view acute myocardial infarctions as a worst-case scenario, the conditions that lead to heart attacks often develop gradually. "Usually the result of a blockage in one or more of the coronary arteries," heart attacks most typically occur "when blood flow to the heart muscle is abruptly cut off, causing tissue damage." The signs of heart attack are not always blatant or obvious, and can also be provoked by drug use or underlying health conditions.
To prevent severe problems associated with poor heart health, there are several steps that young people can take to mitigate, manage, or avoid cardiovascular health issues entirely. Young people are advised to visit a cardiologist as needed. Moreover, young adults should be aware of pre-existing factors or elements of their daily life that put them at greater risk of cardiovascular problems, specifically:
Mental Health Translates to Physical Health
In a busy, iconic city with a particularly high cost of living and fast-paced culture, young people living in New York City work hard. And whatever the underlying reasons — whether "internal needs, external factors, underlying personality traits," etc. — young New Yorkers may not think about the adverse, long-term effects that their work-consumed lives can on their health.

Medical studies show that work — at extreme amounts — takes a toll on mental and physical health, including heart health. A  2011 study on "7,095 British civil service workers" revealed that long work hours contribute to heart disease. With that being said, stress experienced by individuals in their 20s and 30s can have several root causes. Stress is defined as "any intrinsic or extrinsic stimulus that evokes a biological response is known as stress."
Every person is different, and as such, individuals may deal with unemployment, financial difficulties, transitions, insecurities, life decisions, relationships, etc. in different ways. At this current moment, the COVID-19 pandemic is a major root of stress and brought about numerous secondary stressors that affect daily life.
Our mental health and physical health are quite dependent on one another. As a result, individuals may experience physical symptoms of anxiety, depression or other mental health concerns. And unfortunately, research has shown that stress affects our bodies negatively, and can be "either a triggering or aggravating factor for many diseases and pathological conditions."
Stress affects the cardiovascular system by increasing the heart rate and the body's demand for oxygen. Therefore, stress contributes to painful peripheral arterial disease (PAD) — which occurs "when plaque builds up in the arteries," causing them to narrow and harden over time. This all, in turn, increases one's risk of myocardial infarction.
Moreover, chronic stress, experienced repeatedly or over a long period of time, can cause the arteries to become inflamed. Those under chronic stress are at greater risk of hypertension.
However, the good news is that there are things you can do to manage stress in young adulthood:
Be compassionate and accepting of yourself.
Take moments for deep breathing with an app during your day.
Note and challenge your own anxious thoughts against reality.
Exercise should be viewed not as something you "should" do, but as a strategy to reduce stress.
Replace Risky Behaviors with Healthy Behaviors – Lower Risk of Heart Attack and CVD
A vast amount of best practices for managing stress for better cardiovascular health are closely linked to the whole body. When under stress, individuals may engage an uptick in what physicians consider risky behaviors.

By risky behavior, cardiologists refer to practices like smoking or even vaping, eating foods high in fat, sodium, calories, or cholesterol, consuming more than one to two alcoholic drinks per day, stimulant drug use, and physical inactivity. All of these factors can contribute to hypertension, "bad" cholesterol, obesity, diabetes, or all of the above. And in turn, these conditions are linked to a higher incidence of heart disease.
But heart health can be achieved with just a little effort and care. There are a number of things you can do to invest in your heart and overall health in your 20s and 30s. And if you have more than one lifestyle factor to address, keeping a task-list that is broken into smaller, manageable goals will help you to feel less overwhelmed.
Choose one specific goal each week to focus on, for example:
Eat plenty of vegetables, fruits, lean proteins, whole grains, and "healthy" fats. Make time to cook or prepare your own meals or buy from restaurants that use simple, whole ingredients. Work to limit yourself to one portion of fat per meal. Good nutrition can stave off diabetes, obesity, and bad cholesterol.
Use up at least as many calories as you take in daily. Exercise to beat stress and have a healthy body. Find new ways to build movement into your day, or select a physical activity you really enjoy.
Visit your primary care physician at least once a year. They are your first stop to prevent and receive help with chronic conditions related to your heart health.
The UPenn Medicine Cardiac Risk Profiler is a wonderful resource for those in their 20s and 30s interested in better understanding their own heart health.
See a Cardiologist
However, even the best efforts at lifestyle changes are not enough to avoid cardiovascular health issues for some patients. Dr. Beheshtian is an interventional cardiologist who has treated over 1000 patients, in New York and elsewhere. She is extremely knowledgeable about treatment paths for various types of cases, mild or complex.
Please feel free to contact Avicenna Cardiology's office with any questions. Schedule a telehealth appointment or come in soon to see Dr. Beheshtian, who will work with you to create a care plan.